Mattel unveils Ghostbusters Neutrino Wand!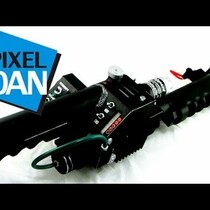 Posted January 23rd, 2014 @ 10:15am
Mattel has introduced it's version of the particle accelorator Neutrino Wand from Ghostbusters!!
The Proton pack, originally designed by Dr. Egon Spengler, is a man-portable particle accelerator system that is used to create a charged particle beam - composed of protons - that is fired by the proton gun, also referred to as the neutrino wand.
Unfortunatley, given the fact we'd probably tear a rift in the time space continum if we misused the psytron collider (think of the McDonald's cup that says "coffee is hot"), it's just a prop...